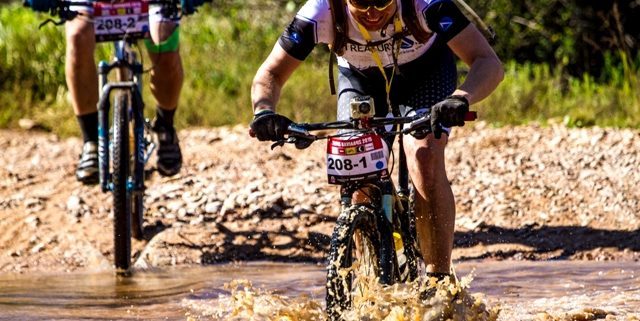 Dagsê 
Ek is besig met hierdie nuusbrief soos die Ecobound span in Bloemfontein sit, besig om reg te kry vir die #TransTalkBloem. Ons is verstom met die geweldige ondersteuning wat ons kry van ryers vêr en wyd in ons land vir hierdie informasie aande oor die Trans Baviaans en sal ons beste probeer om volgende jaar n groter toer te doen!
The Baviaans Kloof.
We have been through the Baviaans Kloof last week. It is dry at the moment with very little river crossings to be concerned about at this stage, but if the past has taught us anything it is that everything can change in the kloof very quickly. The roads are very good except for some of the steep climbs where the cement strips are deteriorating and leaving some big "gaps" in the road
Trans Talk Road Show
So far the Trans Talk's have been a huge success with some valuable tips and information shared. We have been pleased with the turn out of veterans of the Trans Baviaans also attending the evenings and adding value. If you are in the area listed below please book your spot and join us in Knysna or Cape Town.
Our schedule for the rest of the Trans Talks are as follows:
1. Knysna Cycle Works Knysna – 13 June 2016.
2. Sportmans Warehouse Rondebosch Cape Town – 14 June 2016.
All to start @ 19:00
The evening will be free of charge but we would like you to RSVP with Carmen at carmen@ecobound.co.za  by 10 June in order for us to confirm numbers. We will provide snacks, drinks and hopefully some good laughs.
Enjoy your preparations and we hope to see you at one of the Trans Talks.
Wikus van der Walt
We would like to welcome Darling Brew to the Ecobound Family, they will have a cold one available for you at the finish of the Trans Baviaans 2016!
PowerBar has got fantastic products and all are on special for Trans Baviaans entrants. Simply go to ouronline shop to get your coupon code and order directly from PowerBar's shop to qualify for your 10% discount!
If you don't have your lights sorted out yet you better hurry to do so! Extreme lights has put together a"light guide" for the Trans Baviaans and some great specials on their products.
Exciting news for all the Single Speed fans out there! We will have a category for you crazy people out there, with an awesome team prize from South African Animal Sanctuary Alliance and a #SpecialKindOfIdiot Trophy, because you are special!
Want to experience the Baviaans Kloof at a slower pace and take in those views? Have a look at the inaugural Trans Tour available this year!
https://www.transbaviaans.co.za/wp-content/uploads/2016/06/TB_V2_BruceViaene-46.jpg
427
640
Zane
/wp-content/uploads/2016/02/blank_340w.png
Zane
2016-06-11 16:21:05
2016-06-11 16:21:12
Newsletter #5-16