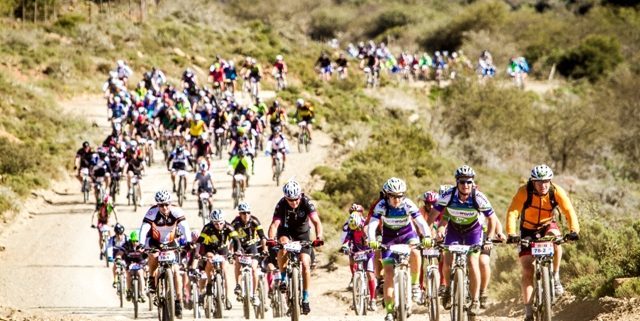 Dagsê 
Ek het gedink dit sal goed wees om vir n slag die nuusbrief in Afrikaans te begin. Winter is om die draai en dit gaan al hoe moeiliker begin raak om te oefen, maar dit sal alles die moeite werd wees wanneer julle teen die M.A.C uitklim in Augustus!
The All New Trans Tour.
With the launch of the second event in 2015, we had these guys, some would call them crazy, some would call them stupid and some would call them very brave, that took up the challenge of riding the first Trans Baviaans from Willowmore to Jeffreys Bay, then ride back to Willowmore through the Baviaanskloof during the following week and then soldier onto the start of the second Trans Baviaans 24hr MTB Marathon! Now that brings Trans Spirit to a whole new level!
We will now be offering a Trans Tour in the week between the two events from 15th August to 19th August 2016 for those crazy enough to take up the challenge (as the guys from last year), for those who want to take their better half through the kloof on a more relaxed journey, for those wanting to reminisce about the race (see some views in daylight) or for those who want to mentally prepare for what is about to come! There is only 10 spots available for this tour so book your spot. Click here for more info.
Trans Talk Road Show
Our schedule for the rest of the Trans Talks are as follows:
1. Bike & Brew Port Elizabeth – 17 May 2016
2. Sportmans Warehouse Bloemfontein – 25 May 2016.
3. Greg Minnaar Cycles Pietermaritzburg – 30 May 2016.
4. Knysna Cycle Works Knysna – 13 June 2016.
5. Sportmans Warehouse Rondebosch Cape Town – 14 June 2016.
All to start @ 19:00
If you are a rookie (first timer) this evening will be very informative and if you are a 5 year shield holder or on your way to one please come and share your experiences with everybody and social with us!
The evening will be free of charge but we would like you to RSVP with Carmen at carmen@ecobound.co.za  a week before every date in order for us to confirm numbers. We will provide snacks, drinks and hopefully some good laughs.
Enjoy your preparations and we hope to see you at one of the Trans Talks.
Wikus van der Walt
Sportmans Warehouse will be offering excellent discounts at the Trans Talk Roadshows on selected Cycling Equipment and their counters will be open for sales. Be sure not to miss it!
Do you worry when they take your bike apart when you give it in for transportation to a race that something might be wrong when your collect it again……. then Bicycle Transport is the way to go!
Bicycle Transport from Pretoria and Johannesburg to Willowmore and back from Jeffreys.
Race date: 13 and 20 August 2016
Cost per bike: R1200
Have a look at the Trans Baviaans Merchandise available on the online shop.
https://www.transbaviaans.co.za/wp-content/uploads/2016/06/TB_V2_BruceViaene-26.jpg
427
640
Zane
/wp-content/uploads/2016/02/blank_340w.png
Zane
2016-06-11 16:05:59
2016-06-11 16:09:15
Newsletter #4-16