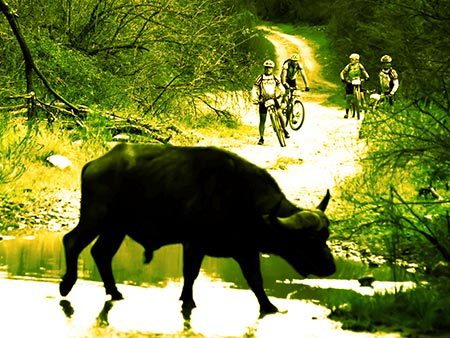 Greetings
The first month of the year has gone we can't believe how quickly it went. We would just like to thank you very much for the great support shown by all of you upon entering the Trans Baviaans 2016.
Training Program
For those of you still recovering from the festive season activities and trying to get your training schedule going for the Trans Baviaans, check out our training program on the website which starts right now!! This will get you ready for the challenge in the time remaining.
Participants in the Trans Baviaans
The riders list of entrants for both the Trans Baviaans events are available on the website. If you have entered and your name does not appear there, don't fret, it only means that your entry is not complete yet. Send us a e-mail to team@ecobound.co.za and we will sort it out for you. All entrants will receive a detailed confirmation e-mail in March with your race number and more information.
First Choice® On Board
First Choice® partnered with Trans Baviaans 2016, the biggest MTB race in the Eastern Cape. You can look forward to some excellent products at all our checkpoints, ranging from desserts to High Protein Recovery drinks. All milk is sourced from pasture fed cows in the beautiful Eastern Cape and locally produced by Woodlands Dairy. We hope you are as excited as we are to taste those flavoured milk drinks when you need it most at 1am in the morning out there en-route in the Baviaans Kloof.
Trans Talk Road Show
This year we will embark on a new venture as part of the preparations for the Trans Baviaans, the Trans Talk Road Show. We will be visiting the main centers, with Johannesburg being the first in March, to provide you with an informative presentation and an opportunity to raise your questions and discuss the event in general. These talks will be at the Sportsmanswarehouse outlets. More information on the schedule and how to attend will be made available shortly through social media and on the website.
Trans Baviaans Merchandise
For those of you who were way too eager to enter and missed the merchandise order in the process, there will be opportunity to order yours. The merchandise order form will be available soon on our new and updated website.
Enjoy your preparations.
Wikus van der Walt
PowerBar® is offering an awesome 10% discount on their online shop for Trans Baviaans participants! Use voucher code: TransPB2016 Don't miss out on this opportunity get your order in today!
https://www.transbaviaans.co.za/wp-content/uploads/2016/02/450x338-px-image-2.jpg
338
450
Admin@GoApp4TB
/wp-content/uploads/2016/02/blank_340w.png
Admin@GoApp4TB
2016-02-03 14:03:23
2016-04-25 11:34:25
Newsletter #2-16